Probiotics: Wasting Your Money? Not if you know 3 things
In my clinic I only give my patients probiotics from companies that rtclere 100% transparent and use the correct strains for the condition I am trying to address. Read on to learn more…
I have a long time interest in gut health and how it relates to healing chronic disease. Understanding our good and bad bacteria, probiotics, and prebiotics is essential to our vitality and health. Using probiotics can lead to greater beneficial gut bacteria, which can support a wide range of health benefits. However, gut health is not as easy as buying a 'good' probiotic from the health food store. This article will help you learn how to choose the correct probiotic for your body / condition by explaining key issues, and how to read labels to avoid useless products. Here are three points worth understanding.
1. Strain matters! Know the difference between strain vs. species vs. genus.
Let's examine a common probiotic name, Lactobacillus Acidophilus CL1285.
Genus: Lactobacillus
Species: Acidophilus
Strain: CL1285*
* This id is essential to choosing the correct probiotic for your condition.
To elaborate, the genus Lactobacillus has over 180 species, two of which are: L. acidophilus and L. rhamnosus. L. acidophilus has many strains, such as, DDS-1, LA-5, NCFM, CUL-21, La-14, etc. Each strain has a different effect on the body!
2. Pick the correct strain for your condition
There are at least 5600 strains1 of gut bacteria and many of them are not beneficial to our overall health. Certain strains have been shown to have specific health benefits. For example, a single strain may benefit:
a decreased immune system
high cholesterol
anxiety
irritable bowel syndrome (IBS)
chronic digestive disorders
allergies
side-effects from antibiotics
obesity
inflammation etc.
It is essential to match the probiotic strain to the condition one is trying to shift.
For example, one strain will benefit diarrhea, while another will benefit constipation. Each strain has unique effects on the body. Some are positive, negative, or unclear from research.
Over the last years I have complied a long list of researched strains and their corresponding conditions that they benefit. Here is a abbreviated version for your education. If you are just considering a probiotic for general health, please see my follow-up article on improving your overall gut health (coming soon).
Bifidobacterium lactis HN019

Intestinal Dysbiosis
Intestinal Transit Time – Slow
Constipation
Immune enhancement- especially in elderly

Lactobacillus acidophilus LA-5

Immune enhancement (such as increased cytokine, phagocytic activity and antibody production), as well as phagocytosis of Salmonella
Inhibit growth of breast cancer cells, and positive effects on chemotherapy patients
Lipid metabolism

Lactobacillus rhamnosus GG

Immune enhancement
Infectious diarrhea in children
Primary prevention of atopic dermatitis

Bifidobacterium lactis BB-12

Immune enhancement
Diarrhea in children
Probiotics for Standard Triple Helicobacter pylori Eradication

Bifidobacterium infantis 35624

Irritable bowel syndrome (IBS)

Lactobacillus casei DN114-001
Bifidobacterium longum BB536

Allergy symptoms
Intestinal micro-ecology

Lactobacillus acidophilus NCFM

Symptoms of lactose intolerance
Reduced small-bowel bacterial overgrowth
Fever, cough and runny nose
Inflammation
Pediatric diarrhea

Bifidobacterium animalis DN173-010

Normalizes intestinal transit time

Lactobacillus plantarum 299V

IBS
Post-surgical gut nutrition

Lactobacillus casei Shirota YIT9029

Superficial bladder-cancer recurrence,
Intestinal microbiota
Immune enhancement

Lactobacillus salivarius UCC118

Inflammatory bowel disease

Lactobacillus johnsonii La1 (Lj1)

Immune function
Helicobacter pylori eradication

Saccharomyces cerevisiae boulardii (Biocodex strain)

Antibiotic-associated diarrhea
Clostridium difficile infections
Amebiasis
Candidiasis
Helicobacter pylori
Small Intestinal Bacterial Overgrowth

Streptococcus thermophilus (most strains)

Symptoms of lactose intolerance
3.  Understand Marketing Strategies: Seeing Through the Deception
Let's see how supplement companies manipulate data for their benefit. Notice this marketing statement:
Bait and Switch
In a study held at the University of Turku in Finland, researchers studied the effects L. rhamnosus on 132 infants with eczema."2
The associated product being sold contains L. rhamnosus Lr-32. However, the original research on eczema used L. rhamnosus GG and HN001. I have not found evidence that Lr-32 benefits eczema and according the Probiotic Advisory3, it has no reliable research data. This deceptive tactic of marketing a researched species, without naming the strain, nor using the correct strain in their product  is rampant. Don't be fooled many 'trusted' supplement companies do this. Essentially, you get what you pay for; probiotic strains that have strong positive research cost more. Higher-end companies only use positively tested strains.
Non-Specific Strains


Often instead of buying specific strains, companies will buy a single species, such as a conglomeration of strains of L. acidophilus. This is much less expensive and contains numerous non-specific strains. Thus, we consumers do not know what is in a conglomeration of probiotic strains, some may be beneficial for your health, while others may be harmful. Notice the label on the top right. There are no specific strain IDs next to the species. Compare this to the lower label.
Also notice the term "proprietary blend" (in the upper label) and the lack of specific amounts for each probiotic. We have no idea how much of each one is contained in the blend. Often the cheaper less effective probiotics will dominate.
In my clinic I only give my patients probiotics from companies that are 100% transparent and use the correct strains for the condition I am trying to address. For example, the lower label is from the company Xymogen. They are top notch.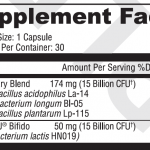 Three Bonus Points
1. The greater number of active strains (e.g. 70 billion or 15 billion) are NOT better for your health.
Often the research dictates how much is needed to treat a specific condition. I follow these guidelines. Too many can cause problems and too little can not be effective.  Furthermore, we have to trust that what a company says is true. Do I really believe there are 225 billion active strains as mentioned in the above label?
2. The greater number of different kinds of probiotics (L. rhamnosus & L. Acidophilus) are NOT better for your health.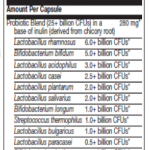 There is a trend to put 10 or even 15 different probiotics together, suggesting more is better.  Again, I like to diagnose a specific need for that patient and find the specific strains for them, instead of using a mysterious grab bag. See picture to the right.
3.  Are they alive?
We might assume that when we take the probiotic that we are getting what the label says, e.g. 15 billion active strains. This is definitely not true. There is no regulation on health supplements. Therefore, finding a trustable company is imperative. I choose companies who third-party test. For example, when trusted companies say there are e.g. 15 billion active (live) strains, this number is calculated after months of shelf life. Not when the strain is coming out of the factory. Companies also blatantly lie, which unfortunately is more common than one might think.
Taking random probiotics is not very useful. Even using probiotics marketed for general health is often not the best strategy. I will explain more in my followup article, improving your overall gut health. For now, it is important to understand that picking the specific strain(s) / probiotic for a specific condition is intelligent. If you are trying to treat anxiety, you are going to need a different probiotic than you will need to treat eczema, or to boost your immune system, or for gastrointestinal disorders. According to this level of discernment, we see that the vast number of probiotics on the market are not worth buying.
Thank you for reading and I would love to hear your comments or questions.
References:
1. https://med.stanford.edu/news/all-news/2008/11/gut-check-reveals-vast-multicultural-community-of-bugs-in-bowels-stanford-scientists-say.html
2. http://www.naturecity.com/lp/truelife/truelife.php
3. https://www.probioticadvisor.com (checked April 2016)
—